Article | August 23, 2023
Enhancing Middle Schoolers' SEL Skills through Interactive Approaches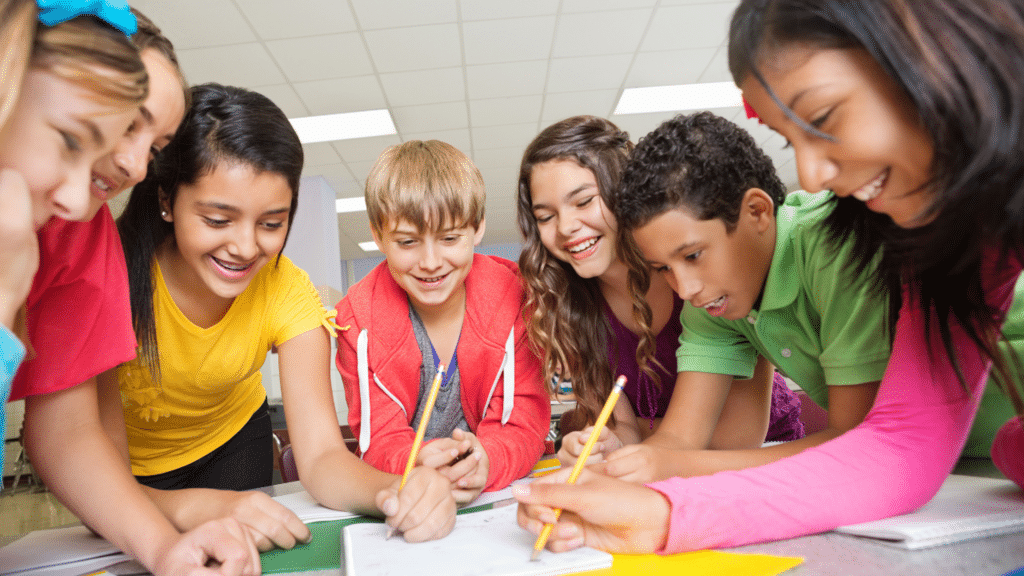 Unlocking the Power of Social Connection: Enhancing Middle Schoolers' SEL Skills through Interactive Approaches
Three years ago, the act of not wearing a mask was synonymous with not wearing your pants (unless you refused to adhere to masking protocols). Engaging in face-to-face interactions with friends, enjoying their laughter, and sharing moments in person carried both a sense of luxury and selfishness. In the classroom, acts of teenage rebellion took the form of turning off cameras and misusing the Zoom "chat" feature.
Rather than worrying primarily about physical altercations among students, teachers found themselves increasingly concerned about their students' mental well-being, diminishing levels of curiosity and social-emotional learning skills (SEL). Some educators approached the challenge of nurturing curiosity by employing mental strategies, such as embracing vulnerability and engaging in open conversations about challenges and struggles, collectively seeking solutions.
Other teachers opted for a more detached approach, encouraging students to partake in outdoor activities, deliberately slowing down, and attentively observing their surroundings (Nierenberg, 2020). These varying approaches assisted some students, but for many, it did not.
Back in 2020, Fiona O'Toole, a ninth-grader from Chicago said:
" Going to school used to excite me, but sitting in front of a computer for eight hours a day does not interest me. I wish we could go back, even one day a week. Even one day a month. Even in small groups. I don't really care." (Nierenberg, 2020).
Contrastingly, Krystal Karman a 12th grader from Menifee, California said:
"While I can't see my friends in person, I try to call, text, video chat and D.M. them as much as I can."
These quotes reflect how COVID successfully upended America's school system and students' motivation and drive. Krystal's statement indicates that COVID hindered her ability to practice and develop her SEL skills through in-person interactions. The primary objective of this article is to provide counselors with insights into the effects of COVID on middle school students' SEL skills. Furthermore, our aim is to offer guidance on how to establish a school environment that naturally cultivates the development of SEL skills. While implementing a comprehensive SEL curriculum like Palo is important, creating a supportive and nurturing environment is equally vital for the sustained growth and application of SEL skills among middle school students. Without a conducive school environment that reinforces the SEL principles and practices learned, the full potential of a Palo SEL curriculum may not be realized. By combining our research findings, we aspire to support counselors and SEL providers to help young individuals, like Fiona and Krystal navigate the challenges of the post-COVID era and strive for holistic growth and well-being.
In order to discover the impact of COVID-19 on Middle School students' SEL skill set, a qualitative research approach was used. To obtain in-depth data on middle schoolers' SEL skill development before, during and after COVID, one on one interviews were conducted. Before the interviews we hypothesized that the interviewees would say that COVID had a large impact on middle school students' mental health and social anxiety. Instead, Our interviews gave us an extremely different perspective on the power of social connection by identifying inappropriate physical interaction, poor academic performance and lack of socialization as the key negative effects of COVID.
Sampling method:
Purposive sampling was conducted to select counselors based on specific criteria. There was no pre-existing relationship between the counselors and the interviewers. The sample consisted of two middle school counselors from northern and western-central California who have experienced two years of remote learning or physical isolation due to the COVID-19 pandemic. The intended sample was five, but due to time constraints, the sample size consisted of two individuals. The participants were selected based on the following criteria:
Currently employed as middle school counselors in the specific geographical location,
Have experience working with students who have experienced at least one year of remote learning due to the COVID-19 pandemic,
Have experience working with students who have experienced physical isolation due to the COVID-19 pandemic.
Data collection procedure:
Two middle school counselors from different school districts were interviewed via Zoom, and a moderator and co-moderator facilitated the discussions. After explaining the scope of the interview and displaying the consent form via screen share, the moderator started audio recording the interview. It was emphasized that there were no right or wrong answers and they may skip any questions that they do not wish to answer. The participants were asked open-ended questions to gather in-depth information about their experiences and perceptions of online learning and SEL skill development. All the questions asked are also sent in the chat box. The session was audio recorded and subsequently transcribed manually.
The interview questions were developed based on the research question and objective. Some questions included:
How have you adapted your counseling approach to address the specific social and emotional needs of middle schoolers during the pandemic?
As a counselor, what are your observations about the impact of COVID-19 and online learning on middle schoolers' social and emotional development?
How do you collaborate with teachers and parents to address the social and emotional needs of middle schoolers during the pandemic?
What role do you see counselors playing in addressing the long-term effects of the pandemic on middle schoolers' social and emotional development?
How do you identify and prioritize the SEL needs of individual students, and what strategies do you use to address these needs?
What are some effective techniques or tools that you have used to support middle schoolers in developing SEL skills during remote learning?
Internal student data such as grades and attendance records were not analyzed in this study since the focus is on the counselors' experiences and perceptions.
Ethical considerations:
The study complied with ethical principles and guidelines, such as obtaining informed consent from participants and maintaining their confidentiality. The participants were informed of the purpose of the study, their right to refuse participation, and the measures taken to ensure their privacy.
Results
Theme 1: Impact of COVID-19 and Online Learning On Social Skills
Ms.A, a counselor at a public middle school (School A) with a student population over 500 in Santa Clara, was the first interviewee. Having experienced the effects of COVID-19 and online learning firsthand, she witnessed the significant impact it had on her students. Being employed at BMS prior to the pandemic, she observed that middle schoolers struggled to adapt to being back with teachers and peers, leading to challenges in healthy interactions. Moreover, academic performance was affected, as some students had to rely on stable Wi-Fi and self-teaching.
Ms.B, a counselor at a smaller public middle school (School B) with a student population under 200 in San Francisco, was the second interviewee. She observed a significant impact of COVID on students' academic skills, particularly evident in the "plummeting" reading scores, leading to frustration and decreased confidence. Behavioral issues were also noted, with students engaging in physical contact, aggressive hugging, and cursing at counselors. Ms.B acknowledged that prior to COVID, School B's students were known to exhibit aggressive and "mean" behaviors, but the pandemic has exacerbated these negative behavioral problems and caused SEL skills to take a negative turn. Additionally, Ms.B mentioned that counselors from other schools have shared similar circumstances, where instances of teachers being cursed at, students throwing objects, and violence were relatively uncommon before the pandemic.
Theme 2: Shift in Counseling Role and Strategies
Before the pandemic, Ms.A'scounseling role revolved around giving emotional assistance. During the pandemic, Ms.A'scounseling role shifted to provide technical support.
This change in Ms.Arole demonstrates how the pandemic induced a shift in a counselor's role in the American middle school system.
Furthermore, Ms.A explained that in the aftermath of the pandemic, she had to adjust her counseling style and strategies to help students with their struggles. These struggles entailed: burnout and lack of social groups. Strategies implemented to address these needs included regular check-ins, collaboration with teachers, and implementing a tier 1 curriculum.
Ms.A expressed her belief that children struggled during COVID due to burnout and a lack of social groups.
Ms.B also experienced this multileveled shift in her counseling both before and after the pandemic. During the online, remote learning Ms.B's counseling services involved sitting in her virtual waiting room on Zoom and "hanging out" with her students. This deliberate act of socialization was implemented to counteract the negative effects of parents giving inadequate support when it came to developing their child's SEL skills.
To help counteract the SEL skill deficit, she incorporates mindfulness techniques, community builders, and emphasizes the importance of showing love and patience. Ms.B collaborates with teachers to address the social and emotional needs of students during this time and sees counselors playing a crucial role in mitigating the long-term effects of the pandemic on their development.
Although both counselors observed different effects of COVID, their perspectives centered around the notion that the lack of socialization during the pandemic translated into a deficiency in social-emotional skills in the post-pandemic era.
Theme 3: Challenges in Developing SEL Skills and Assessing Interventions
According to Ms.A, challenges in developing SEL skills during the pandemic included counselor burnout and a lack of social groups or clubs. To assess the effectiveness of counseling interventions, referrals and data collection tools such as Panorama were utilized. In order to stay updated with the latest research and best practices, Ms.A relied upon resources like conferences, memberships, and district meetings.
Similarly, counseling interventions' effectiveness for Ms.B's students is also measured through surveys such as Panorama, with additional interventions including individual and group therapy sessions and telehealth services. Ms.B suggests that schools should develop a specific SEL curriculum to address the gap in SEL skills among middle schoolers. Ms.B implied that she wished this curriculum would be free, compared to the existing "second step" curriculum and would incorporate the training of their own staff.
Theme 4: Staying Informed and Further Professional Development
Ms.A stays informed and engaged in professional development opportunities to support middle schoolers' social and emotional development during the pandemic. She attends conferences, holds membership for American School Counseling Association, and has a contract with data collection tool Panorama. Additionally, she regularly participates in meetings with the district to stay updated at a broader level.
To stay informed about the latest research and best practices in supporting middle schoolers' social and emotional development during the pandemic, Ms.B actively participates in professional development opportunities such as monthly meetings and annual training sessions specifically designed for counselors. She expresses a desire for a new SEL curriculum that can better meet the needs of their students and states, "we need to train 'our people'."
Analysis
The consensus among counselors was resolute: the mandatory transition to online learning had an adverse effect on students, and there is a need for new ways to develop SEL skills. In this post COVID era, students are encountering difficulties when readjusting to in-person interactions with their peers and teachers. This has led to challenges in establishing healthy relationships among peers. The absence of face-to-face socialization has resulted in a deficiency in interpersonal skills and an understanding of physical boundaries among students. While the return to in-person learning brought about a sense of excitement, it also highlighted the need for the implementation of resources and programs, particularly for 8th graders who missed out on crucial developmental years in 6th and 7th grade. This lack of experience and playfulness occasionally manifests as overly affectionate behavior and sporadic aggression.
There is a correlation between students lacking certain social-emotional learning (SEL) skills and the changes in the educational environment caused by COVID. Research in this field highlights that middle school maturity is influenced by various factors, including heredity, environment, and sex hormones (Arain, 2013). This indicates that the COVID lockdown, which restricted face-to-face interactions to immediate family members, likely had a significant impact on students' maturity.
Some students have shown a regression in maturity. Previous studies have connected mindfulness-based interventions in SEL programs to, "strive to develop positive self, moral, social, and emotional understanding" (Moreno-Gómez & Cejudo, 2019). This idea, that SEL education helps with development of certain lost skills created by COVID, was described by both counselors in the interviews.
Currently, Ms.B devotes a significant portion of her time to providing SEL support to her students. However, she firmly asserted that there is still much work to be done, as children continue to grapple with significant social skill deficits. This implies that teaching alone is not sufficient.
Counselors need to proactively work towards creating a school environment that facilitates the natural development of students' social-emotional skills. To assist counselors in this endeavor, we have compiled a list of programs that can aid in this process.
Recommendations
If you are seeking a multifaceted approach to simultaneously enhance your students' academic knowledge in areas such as STEM, programming, and agriculture, while also fostering the development of their SEL skills, we recommend exploring 4-H.
For an enriching experience that allows students to embark on a journey across the nation, where they can gain valuable insights about themselves, others, and various career paths, we suggest visiting RoadTrip Nation. This resource serves as an excellent catalyst for inspiration, offering a wealth of videos, stories, and podcasts to spark curiosity in students who may have experienced burnout or boredom during the prolonged two-year pandemic.
Are you working with a group of students who are deeply passionate about niche subjects? Griptape provides a unique opportunity for students to explore their interests by offering a financial grant of $500. Thanks to this program, Cooper, a student who participated, successfully designed and developed a "smart jacket." This innovative creation incorporated a laser pointer, a flashlight, micropressers, and fabric sensors. Cooper, currently pursuing a degree in electrical engineering at college, stands as an example of how Griptape not only nurtures creativity but also aids students in discovering the subjects they wish to explore further.
For an immersive and rigorous approach to stimulate the utilization of SEL skills within a STEM-focused context, we recommend considering Science Olympiad. It is important to note that this resource requires significant adult supervision and assistance to ensure a seamless experience.
If you are keen to engage your students in statewide and even international competitions, enabling them to showcase their talents and abilities, we encourage you to explore FPSPI. By participating in this competition as a team, your students have the opportunity to achieve first place internationally and receive an invitation to a big convention.
To promote a supportive environment for additional peer interaction, eLearning platforms like Palo are another valuable resource. Palo offers an interactive and engaging online platform designed specifically for students to develop their SEL competencies. Through Palo, students can participate in collaborative activities, discussions, and projects, fostering peer interaction and promoting the development of essential social and emotional skills. This eLearning platform serves as an instrumental tool to create a supportive and engaging environment where students can learn and grow together.
In conclusion, the COVID-19 pandemic has had a profound impact on middle school students' social skills, necessitating a focus on SEL solutions in the post-pandemic world. The shift to online learning disrupted face-to-face interactions and has led to challenges in developing healthy relationships among peers and faculties with students exhibiting deficiencies in interpersonal skills and an understanding of physical boundaries. The return to in-person learning highlighted the need for additional support, particularly for those who missed crucial developmental years. The counselors' perspectives aligned with research indicating a correlation between the lack of socialization and the regression of students' maturity. Mindfulness-based interventions in SEL programs were identified as valuable tools to address the lost skills caused by COVID. Counselors emphasized the importance of creating a school environment that naturally fosters the development of SEL skills. To assist counselors in this endeavor, resources and programs such as 4-H and RoadTrip Nation were suggested to support academic knowledge and inspire curiosity while promoting SEL skill development. By prioritizing SEL and creating supportive environments, educators can help middle school students, like Fiona and Krystal, thrive in the post-pandemic era. The reestablishment of social connections and fostering meaningful relationships not only allows students to re-engage with their peers and classrooms but also plays a crucial role in enhancing their SEL skills, enabling them to navigate the challenges of adolescence with confidence and resilience.
Bibliography
Arain, Mariam et al. "Maturation of the adolescent brain." Neuropsychiatric disease and treatment vol. 9 (2013): 449-61. doi:10.2147/NDT.S39776
Moreno-Gómez, AJ., Cejudo, J. Effectiveness of a Mindfulness-Based Social–Emotional Learning Program on Psychosocial Adjustment and Neuropsychological Maturity in Kindergarten Children. Mindfulness 10, 111–121 (2019). https://doi.org/10.1007/s12671-018-0956-6
Nierenberg, A. (2020, October 14). Students, parents and teachers tell their stories of remote learning. The New York Times. https://www.nytimes.com/2020/10/14/education/learning/students-parents-teachers-remote-stories.html
Press release – more than 80 percent of U.S. public schools report pandemic has negatively impacted student behavior and socio-emotional development – July 6, 2022. (n.d.). https://nces.ed.gov/whatsnew/press_releases/07_06_2022.asp
Title: Unlocking the Power of Social Connection: Enhancing Middle Schoolers' SEL Skills through Interactive Approaches